Sheffield policing report criticises council over tree felling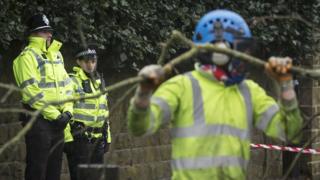 A report into dealing with Sheffield's tree-felling protests says the city council left a police force "in the eye of the storm".
Sheffield City Council had appeared to step back from public engagement as the row was at its peak, the report said.
The report, compiled for South Yorkshire's Police and Crime Commissioner (PCC), is on the disputed 25-year, £2.2bn tree-felling contract.
The council welcomed the report as a chance "to reflect and learn lessons".
Councillor Lewis Dagnall, said the council was "reconsidering" how to proceed with tree-replacement work.
The contract, known as Streets Ahead, was signed between the council and contractor Amey to improve the city's roads and footpaths.
The council insists trees earmarked for felling are either "dangerous, dead, diseased, dying, damaging or discriminatory" and it is also planting new trees.
But campaigners say many of the trees classed as "damaging" or "discriminatory" are healthy specimens and should be saved.
Andrew Lockley, the panel's chair, said the council and Amey, had "become dependent on the heightened level" of police involvement, to enable contract staff to fell trees.
During February and March the council "appeared to step back from public engagement in the media and elsewhere, leaving South Yorkshire Police in the eye of the storm", the report said according to the Local Democracy Reporting Service.
It suggested a Home Office review consider police forces clawing back operation costs from private contractors employed by local authorities.
It said police vehicles should not travel in convoy with contractor's vehicles but exonerated the force from accusations of acting on behalf of Amey.
It also said police should minimise the number of officers at tree operations among its 10 recommendations.
Councillor Dagnall, who oversees the tree programme, said he would meet Dr Allan Billings, the PCC, to discuss the report and reaching "a compromise".
Such a compromise could mean "further police involvement proves unnecessary when work recommences", he explained.