Father and son jailed for Sheffield baseball bat attack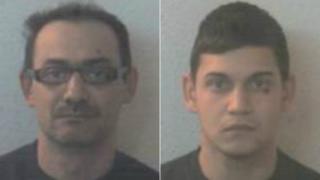 A father and son who fled the UK after being charged with attacking a man with a baseball bat have been jailed.
Marian Duna, 45, and his son, also called Marian, 19, repeatedly hit their victim over the head during the attack in Middle Hay View, Sheffield in 2015.
South Yorkshire Police said the 44-year-old victim suffered life-changing injuries and had to give up his job.
The two men, of no fixed abode, were jailed for two years after pleading guilty to causing grievous bodily harm.
More stories from across Yorkshire
Sheffield Crown Court heard Duna and his son were charged with the offence in March 2015 but fled the UK while on police bail.
The men were eventually arrested and, on Friday, were sentenced for the offence.
Det Ch Insp Martin Tate said: "This has been an extremely lengthy investigation that has required officers having to travel to Paris and Prague to execute the European Arrest Warrants and bring them back to the UK to face justice.
"It has been an incredibly difficult time for the victim, who has suffered not only life-changing injuries but has also had to endure what has been a protracted investigation.
"For this I would like to praise and thank him and I hope he is able to take some solace in knowing they are now being punished."