Duchy of Lancaster's plans for Tickhill Castle rejected by Doncaster councillors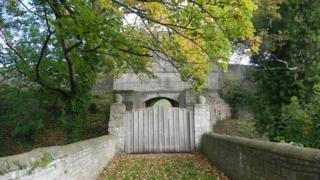 Plans by the Queen's estate to convert stables at a castle into a house have been rejected.
The Duchy of Lancaster, which manages the sovereign's land, estates and assets, also wanted to renovate and extend a cottage within the grounds of Tickhill Castle in Doncaster.
It planned to convert the disused stables into a single property.
The application was deferred at a previous Doncaster Council meeting for a structural report on the building.
The council's planning team went against officers' recommendations to approve the scheme, and rejected the plan on the basis it was detrimental to the nearby castle.
Five councillors voted to refuse the application and three voted in favour, the Local Democracy Reporting Service said.
The Duchy of Lancaster is understood to be appealing.
Graeme Chalk, on behalf of the Queen's estate, said the application was not "an excuse to flatten and rebuild the structure".
'Must be preserved'
Residents have said the site is of "national interest" and should be preserved. Dozens of people have objected.
One resident told planners: "If the castle was in any city in the south, this would never happen. The castle and its environment must be preserved for future generations."
Councillor Martin Greenhalgh said a letter was sent to the secretary of state for housing, communities and local government which has "power to intervene" and review the case.
He said: "It might be prudent to allow this to go to appeal by the Duchy of Lancaster by refusing this, because we wouldn't want as a council to seem to endorse something which could very well act in all proportion and be dealt with at a different level."