On-duty PC 'speeding' before Sheffield fatal crash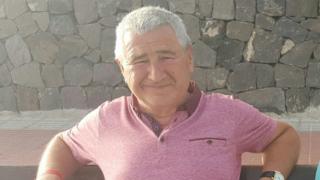 An on-duty police officer was driving over the speed limit when he hit a man on his way to his granddaughter's 21st birthday party, an inquest heard.
Leslie Bingham, 73, died from multiple injuries after being hit by a marked patrol car while crossing Penistone Road in Sheffield on 7 January 2017.
PC Steven Hazelhurst was recorded driving at 41mph in a 30mph zone, Sheffield Coroner's Court heard.
He told the inquest jury there was "absolutely nothing that I could do".
The police car was not on an emergency call and was not using its sirens and blue lights.
Mr Bingham, a retired metal worker, was heading for his granddaughter's 21st birthday party at the greyhound stadium when he was struck.
'Split second'
The stadium was on the other side of the road when the incident happened on a pedestrian crossing, the inquest heard.
The hearing was told the "black box" in the patrol car recorded a speed of about 41mph when the driver, PC Hazelhurst, began to brake.
The speed limit on the dual carriageway is 30mph.
PC Hazelhurst said he had just bought a coffee from a nearby McDonald's restaurant and was heading for a "very routine appointment" with a colleague in the passenger seat.
Asked to describe the incident, he said: "It was a split second.
"What I saw was more of a blur.
"At the moment I saw him there was absolutely nothing I could do."
Asked by the coroner if he had the coffee he had bought at McDonald's was in his hand at the moment he saw the pedestrian, he said: "No, I did not sir."
PC Hazelhurst said he was not constantly looking at the speedometer on the car.
"I was driving at what I thought was on or around the speed limit and what was reasonable for the road."
The jury will continue its deliberations on Tuesday.