Sheffield's 'danger flats' risk to tenants' lives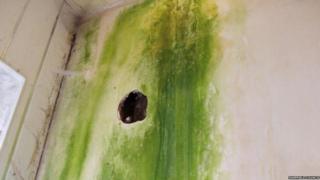 Tenants in a part of Sheffield are living in such bad conditions their lives are being put at risk, a council report has warned.
Some flats above food shops in London Road, Abbeydale Road and Chesterfield Road were "serious fire risks".
Council inspectors found inadequate toilet facilities, serious disrepair, dangerous living conditions and poor management at some of the properties.
Landlords in the area will now have to pay £750 to go on an approved register.
City councillors agreed to introduce the "selective licence" scheme on 668 properties around those roads.
Housing officer Michelle Houston told a meeting of Sheffield's cabinet: "We have focused on this area because there are multiple hazards in several properties and a high volume in one small area.
Ms Houston said there were 40,000 privately rented properties in the city and the vast majority of landlords were good.
Officers had "identified common issues such as serious fire risks and the lack of suitable amenities such as toilet facilities", a report said.
"Flats above food establishments are of particular concern where fire risk was considered high.
"The recent tragic loss of life in the Grenfell Tower block has highlighted the need to make sure the residents of Sheffield are protected from the effects of fire."
There appeared to be a legitimate fear from private rented tenants that they would be evicted if they complained, the report said.
The document adds: "In summary we found the number of properties that contained high risk hazards was extremely high with over 70% of all properties inspected needing some level of remedial action."
Officers said introducing the licensing register would "contribute to an improvement in housing conditions in that neighbourhood".