Spearmint Rhino strip club near Sheffield Hallam University 'ludicrous'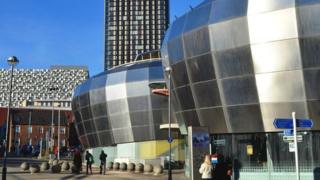 A university has said having a lap dancing club next door is "ludicrous".
Spearmint Rhino, which has been on Brown Street in Sheffield for more than 15 years, has applied for its sexual entertainment venue licence to be renewed.
A Sheffield Hallam University spokesperson said the club could "seriously undermine" its multimillion-pound masterplan for the area.
Councillors are due to consider the club's application on 19 June.
Spearmint Rhino has been contacted for comment.
A female student who wrote to support the application said removing a "safe workplace for women is irresponsible", the Local Democracy Reporter Service said.
The 22-year-old said women are subject to abuse everywhere and not just because of strip clubs.
"Removing a safe workplace for a great many women without consulting with them or whether that is what they want and need is irresponsible at best and at worst will cause direct harm," she said.
"To do so is not feminist."
Spearmint Rhino is Sheffield's only licensed strip club and its licence was renewed in April 2017 despite almost 100 objections; many on the grounds of gender inequality.
It is in the city's Cultural Industries Quarter near Yorkshire Artspace, Red Tape Studios, Sheffield Archives, the University Technical College and the BBC.
Objectors have said it is an "inappropriate location" passed by families and tourists going to the Site Gallery, Showroom and Workstation.
The university said students walk past "around the clock" and are entitled to feel "safe and secure". A spokesperson also claimed it undermines equality and diversity.
The university said: "Sheffield Council has had significant involvement in the development which will see a University Green on Arundel Lane immediately adjacent to Spearmint Rhino."
"If [the licence] were renewed, we believe the council would be placing itself into conflict regarding its own plans for the development of the city centre and jeopardise investment."