Sheffield shooting: Teenager injured in Woodthorpe area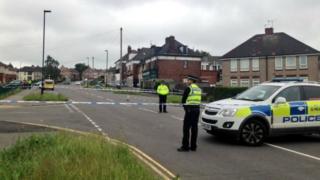 A 17-year-old boy has been shot in Sheffield - the latest in a string of shootings in the city.
The teenager was attacked in the Nodder Road area of Woodthorpe, at the junction with Hastilar Road South, at about 21:00 BST on Monday.
He was taken to hospital with what were later described as "life-threatening" injuries.
It is the third shooting to have taken place on the estate in the past two months.
It follows an incident on the same road in on 14 April when a man was shot in the legs in a "targeted" attack.
The 42-year-old victim was approached by several men after leaving a house in Nodder Road in the early hours.
Yorkshire breaking news: Children bring busy Leeds motorway to standstill; 29 types of drugs found in Yorkshire rivers
He was shot before the group left in a people carrier.
Last month, on 8 May, a 30-year-old man was shot in his leg in Chadwick Road, Woodthorpe, near Woodthorpe Community Primary School.
On 19 April there was an apparent drive-by shooting in Bransby Street, where a witness heard gunshots "in quick succession" followed by the sound of a car driving away.
At the scene in Nodder Road on Tuesday a police cordon has been put in place and four police vehicles were at the scene.
Police are appealing for any witnesses to contact them.