Dan Jarvis: Sheffield trams bike ban policy must change says new mayor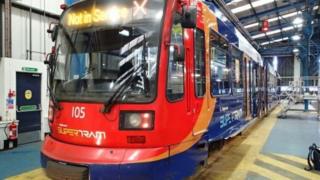 The newly-elected mayor of Sheffield City Region has called for a ban on bikes on trams to be overturned.
Dan Jarvis, who is also the MP for Barnsley Central, said he did not understand why travel operator Stagecoach had the rule in place.
Currently only folding bikes can be taken on the Sheffield Supertram network.
Stagecoach said space and safety reasons prevented them accepting "unsecured traditional bikes".
According to the Local Democracy Reporting Service (LDRS), Mr Jarvis said: "It was pointed out to me the other day that you can't take a bike on the Supertram. I don't understand, why can't you?
"As part of my wider commitment to active travel I will be raising my concerns and asking questions about why it is that in other parts of the country people can take their bike onto the tram but you can't do that here.
"I'll be expecting a very good reason why you can't do that and if there isn't, I expect a change of policy."
'Changed policy'
Dexter Johnstone, secretary of Cycle Sheffield, said he welcomed Mr Jarvis's comments.
He said: "You can take your bike on the London Underground, the Metro in Newcastle changed their policy and it would be great news if this would happen in Sheffield."
James Stewart, customer services manager at Stagecoach, said: "There is a limited amount of space available on board our trams and our most recent review concluded that the carriage of bikes could result in potential accessibility issues for our other customers such as wheelchair users and people with pushchairs."