Sheffield man with locked-in syndrome takes on cycle challenge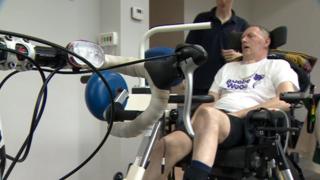 A man with locked-in syndrome is cycling two hours a day for 80 days on a special motorised bike for charity.
David Collings, from Sheffield, was left unable to move after a stroke in 2016. He can now only communicate by blinking and slightly moving his head.
Previously, Mr Collings, 60, was an active man who cycled across the UK to raise money for Bluebell Wood Hospice.
With his new challenge, he has so far raised £430 towards his £500 target for the same children's charity.
Mr Collings, who is using a motorised automatic pedalling bike, said on an online fundraising page that "nothing is stopping me from continuing my 'quest' to help others".
His wife Carole said her husband was "absolutely determined" to set himself the challenge, which he started on Thursday.
"His whole personality shines through," she added.
"He doesn't speak, he makes no noise, he doesn't move. But all the staff here who didn't know him before the stroke know what kind of a guy he his and are absolutely amazed."
Father-of-three Mr Collings suffered a stroke while on holiday in France which led to locked-in syndrome on 23 December 2016.
He had to wait more than two weeks before he was allowed to transfer to a hospital near his home.
You may also be interested in:
Since last year he has been receiving rehabilitation at a specialist centre in Sheffield where he has been training on the motorised bike.
His physiotherapist Lucy Moore said: "This is the first time I have ever come across anyone with locked-in syndrome doing a charitable challenge.
"I think the cycle challenge is a great idea. It is allowing David to do what he has always done, and show a part of his caring, determined personality."
What is locked-in syndrome?
Those with the syndrome are almost completely paralysed and sometimes only able to move their eyes up and down, or to blink. They cannot move but they are fully conscious.
It usually results from a massive haemorrhage, thrombosis, or other damage, affecting upper parts of brain-stem.
Almost all motor function is destroyed but the higher mental functions are left intact.
The most common cause of locked-in syndrome is a stroke.