Michael Gove: Sheffield City Council 'in thrall' over tree-felling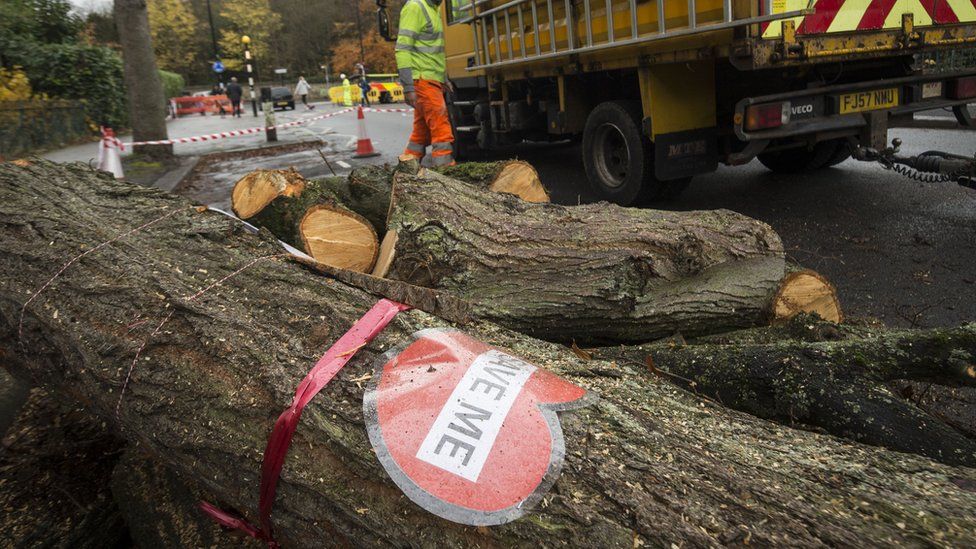 Environment Secretary Michael Gove has accused Sheffield City Council of being "in thrall" to its own officers over the city's tree-felling.
Mr Gove made the comments in Parliament on Tuesday, calling on the Labour authority to stop the project.
In March he said he would do "anything" to stop the "environmental vandalism".
The council said it hoped Mr Gove would "listen carefully" to serious points about how air pollution from government projects affects the city.
Meanwhile, four tree protesters are due at the High Court in June for allegedly breaking an injunction.
The controversial tree-felling by the Labour-run authority is part of Sheffield's £2bn 25-year Streets Ahead project which has seen about 5,500 trees cut down since 2012.
Thousands of trees, assessed by council contractors Amey as dead, dying, diseased, damaging or dangerous, have been cut down. Campaigners say healthy trees have also been lost.
Mr Gove told the House of Commons on Monday that in order to deal with air pollution, "one of the things we can do is continue to ensure that trees are allowed to survive - rather than by being chopped down by a council which is in thrall to its own officers".
He was responding to points made by Sheffield South East MP Clive Betts about air pollution created by the M1 and Midland Mainline railway.
Councillor Lewis Dagnall, who replaced Bryan Lodge as cabinet member for Environment and Street Scene after Mr Lodge resigned in March, said:
"I am listening to residents across the city about how we can reach a compromise and move forward with street tree replacement works.
He added: "I would hope that Mr Gove would listen carefully to the very serious points raised by Mr Betts about how the air pollution created by the M1 and Midland railway, both the responsibility of central government, affects our city."
The four tree campaigners due in court are said to have breached a High Court injunction imposed last July, by obstructing tree-felling in December and January.
Related Internet Links
The BBC is not responsible for the content of external sites.