Sex comments detective sacked by south Yorkshire Police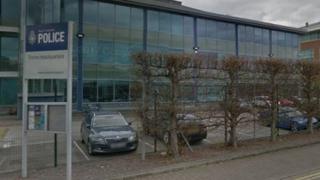 A detective has been sacked from a police force for "inappropriate touching" and making sexualised comments at work.
Nathan Hoole, 44, made inappropriate, unprofessional, and sexualised comments and inappropriately touched colleagues between January and May 2017.
South Yorkshire Police said Det Sgt Hoole's conduct showed a "lack of respect" and fell "incredibly short".
A force hearing found his behaviour was "gross misconduct".
The hearing found Mr Hoole's behaviour amounted to gross misconduct and he was dismissed without notice.
Mr Hoole had been on restricted duties since the allegations were made in May last year.
Head of the Force's Professional Standards Department, Det Supt David Barraclough, said: "His behaviour was completely unacceptable and inexcusable, and we will not condone or tolerate any South Yorkshire Police employee who is offensive and conducts themselves in such a disrespectful manner."