Jailed gun pair modified and sold antique weapons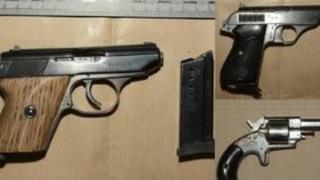 Two men who modified antique guns to fire hollow point bullets have each been jailed for 14 years.
Anthony McIntyre and Shaun Michael May admitted modifying and distributing the guns which had been altered to fire "dum dum" bullets.
One of the guns had been used in a shooting in Doncaster 2016.
At Sheffield Crown Court, Judge Slater said they were "key facilitators" and referred to "increasingly prevalent" firearms crime in South Yorkshire.
McIntyre, aged 57, of Main Street, Hatfield, admitted conspiracy to manufacture and transfer prohibited weapons.
May, aged 33, of Castle Well, Conisbrough admitted possessing prohibited weapons and conspiracy to transfer prohibited weapons.
Sentencing the two men Judge Slater said gun crime in the South Yorkshire area was "increasingly prevalent" and deterrent sentences were needed in this case.
A police investigation into the McIntyre and May's criminal enterprise began in 2016, when modified antique firearms - adapted so they could fire modern ammunition - were recovered and seized at sites across South Yorkshire.
'Seven handguns reactivated'
Inquiries by South Yorkshire Police's Zeus team which tackles armed criminality across the region, led officers to McIntyre's home address where they found evidence of firearms modification.
Judge Slater quoted Lord Judge who as Lord Chief Justice set new sentencing guidelines for firearms offences.
In 2009 Lord Judge said: "Guns kill and maim, terrorise and intimidate. That is why criminals want them."
The court heard at least seven handguns were reactivated by the men, three of which have never been found.
One of the guns was known to have been used in a shooting in Doncaster in November 2016.
Judge Slater told the pair they were not "the main men" in the offences the guns were used for, they were "key facilitators" with McIntyre buying the weapons and May storing and distributing the guns.