Barnsley Glass Works: Leisure site added to council risk register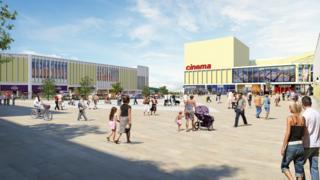 Barnsley's Glass Works development is regarded as a "strategic risk" due to its rising costs, council documents show.
The site will include shops, cafes, a cinema, bowling alley and new homes for Barnsley Market and Central Library.
It was added to Barnsley Council's strategic risk register owing to the possibility it could fail to claw back its £120m construction costs "within a suitable timescale".
The development is due to open in 2020.
Read more stories in South Yorkshire
The authority's register catalogues issues in the town with the potential of causing serious problems, so they can be monitored and subjected to necessary action if required, the Local Democracy Reporting Service (LDRS) said.
Glass Works is fully funded by the council after attempts to get an outside investor failed, with the authority hopeful the investment would be paid for from the generated rent and business rates.
It recently emerged a £10m contingency fund set aside by the council for unforeseen expenses connected to the Cheapside facility had been largely used, with the council having to find £6.5m to top it up.
Barnsley Council previously said the investment would create economic growth and provide about 800 jobs in retail, leisure and the construction industry.