Backlash over Sheffield Pride 'celebration' comment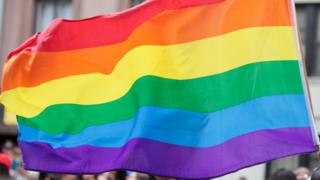 Organisers of Sheffield Pride have been criticised for describing the event as "a march of celebration not protest".
The comment, included in an email to participants, has sparked anger on social media, with one person saying it is "whitewashing our entire struggle".
Concerns have also been raised over a plan to vet placards on the march.
Event manager Darren Hopkinson said: "We understand there is a protest element but the main priority for our event is to celebrate".
More stories from across Yorkshire
Luke Renwick, president of the Sheffield Hallam Student Union, said: "I think it shows a misunderstanding of what Pride is. It can be both but it is definitely not just a celebration.
"Pride has historically been a protest and it needs to remain as one until we have equality for people across the country and the world."
Writing on Twitter, one man said: "Pride will always be a protest until the last queer on earth is liberated", adding that it is both a chance to "celebrate Queer culture and excellence" and a chance to "[show] solidarity with our siblings across the world who do not share that same privilege".
Mr Hopkinson said the wording of the memorandum had been in use since 2015 when the current committee took over organisation of the event.
He said: "All guidelines have been the same for the last three years. I can't understand why all of a sudden this has all kicked off."
He said the decision to vet placards arose after organisers received more than 100 complaints about the language used on a banner in 2017.
It has also been claimed there was a ban on political activists or groups taking part in the event but Mr Hopkinson said "we're not banning anybody".
He said that due to a "lack of relationship" with Sheffield City Council "we probably would not allow applications from political organisation such as Labour or the Lib Dems".