Penistone hammer attack: Dad's life sentence increased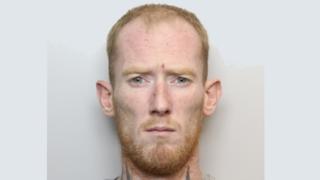 A man who tried to kill his three children and step-daughter in a hammer attack before crashing his car at 92mph has had his jail term increased.
Owen Scott had been jailed for life for four counts of attempted murder and dangerous driving after the crash near Penistone, South Yorkshire.
Scott, 29, of Hampshire, had his minimum term increased by the Court of Appeal from 14 to 24 years.
The children were inside the car when he crashed it into a pub last August.
Read more stories from across Yorkshire
Two girls, aged seven and eight, and two boys, aged 21 months and nine months, were seriously injured with all four youngsters suffering brain damage in the crash.
As a result of her injuries, one of his daughters will be wheelchair-dependent for the rest of her life.
Challenging the original sentence, Solicitor General Robert Buckland said the 14-year term for Scott, from Fawley, had been unduly lenient.
He said a series of aggravating factors, including the gross abuse of trust and the vulnerability of the young victims, meant the case fell outside normal sentencing guidelines.
Lord Justice Treacy, sitting with two other judges, said: "Four young lives have been grievously affected, their mother's life has been blighted and the level of harm which has been done is very high indeed.
"It follows from that analysis that the sentence imposed below was unduly lenient."
Scott had been in a cocaine-induced psychotic episode, when he deliberately crashed into the Travellers Inn, near Penistone, early on 23 August last year.
The court heard he had collected the children from his former partner's home in Southampton on the pretext of taking them on a shopping trip.
Scott then drove to the Isle of Wight, Liverpool and Greater Manchester before arriving in Huddersfield ahead of the crash, which he claims to have no memory of.
The judge said: "It is clear that some of the children were old enough to understand what the offender was doing whilst those attacks were taking place."
Defence barrister Michelle Colborn further stressed Scott had little recollection of what happened.