Mother of Sheffield MDMA death student urges drug caution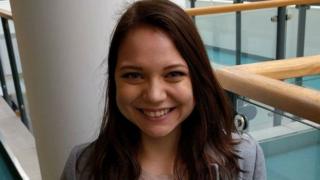 The mother of a student who died after taking MDMA has said taking the drug is "not worth the risk", following an inquest into her daughter's death.
Joana Burns died after a night out in 2017 to celebrate completing her maths degree at Sheffield Hallam University.
An inquest heard she and a group of friends agreed to take the drug before going to the Tuesday Club at Sheffield University students' union on 6 June.
Assistant coroner Abigail Combes recorded a conclusion of misadventure.
More stories from across Yorkshire
The inquest, held at Sheffield's Medico Legal Centre, heard one of the group had bought the drug - also known as ecstasy - in the form of a powder which they each then made into "bombs".
Miss Burns' boyfriend, Lewis Birch, said the 22-year-old willingly took one "bomb" of the MDMA before going to the event.
He said he believed it was probably the third time she had taken it.
The inquest heard Miss Burns took a second "bomb" in the early hours of the following morning but vomited it straight back up before she started having a seizure and was taken to hospital.
Pathologist Kim Suvarna told the court Miss Burns died from drug toxicity.
He said the MDMA probably reacted with enzymes in her body to cause it to overheat.
Speaking after the hearing, Miss Burns' mother, Mosca Burns, from Alfreton, in Derbyshire, said: "I would prefer it if nobody took MDMA again because I don't really think you can assess the risk.
"It's different every time you take it.
"It can have a different affect on your body, it's made in different ways, in different recipes, in different places, by different people, with different ethics.
"So, it's not worth the risk."