Rotherham man jailed for abusing three underage girls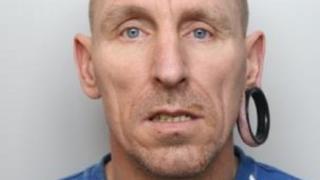 A man has been jailed for 25 years for sexually abusing three young girls in Rotherham.
At Sheffield Crown Court, Tony Chapman, 42, of Lindley Street, Eastwood, was convicted of raping two girls and admitted indecently assaulting another.
The abuse took place in 1998-1999 and between 2013-2015 when the girls were under the age of 16.
He was sentenced as part of the National Crime Agency's inquiry into sex abuse allegations in the town.
Read more stories in South Yorkshire
Chapman, who was convicted on Thursday after a nine-day trial, was also found guilty of one count of assault occasioning actual bodily harm and one count of threatening to kill the first victim.
He admitted 12 counts of indecent assault against one of the girls at a court appearance in April.
Sentencing Chapman, judge David Dixon described him as a "very dangerous and callous man who thought he was invincible".
He added he has shown "no remorse" for his actions, and said of the victims: "These brave women will be listened to and looked after."
Paul Williamson, Operation Stovewood senior investigating officer, said: "Chapman has posed a danger to children across generations and the young community of Rotherham will be a lot safer now that justice has been rendered and he is behind bars.
"Our investigations are challenging, but I have no doubt today's verdict will give victims of past abuse in Rotherham continued confidence that they will be listened to, that crimes committed against them will be taken seriously and thoroughly investigated."