Maltby Main FC claims world record in dog charity event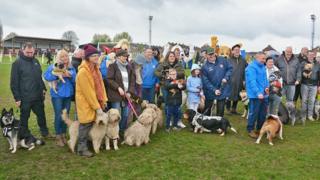 A football club claims to have set an unofficial world record for the number of dogs at a non-league match.
Maltby Main Football Club asked supporters to bring their four-legged friends to the game against Pontefract Colliery on Saturday.
The event was part of a fundraiser in aid of the Support Dogs charity, which supports people with autism, epilepsy and other disabilities.
A total of 78 dogs attended the game, accompanied by 177 people.
"We are officially world record holders elect," a club spokesman said.
The match at Muglet Lane, on what the club said was officially designated "Non-League Dog Day", was won by Pontefract Colliery, 2-0.
However, despite the result and wet weather, organisers said the "bring your hounds to the ground" event, was a great success for everyone involved.
One owner, Ian Herbert, said his dog Nelly had the time of her life.
The dogs were segregated from those who were not so keen on man's best friend to ensure everyone enjoyed the game, the spokesman said.
"There was also a game of football," he added.
The club said it had set another record for its most popular tweet, which detailed the number of dogs involved.
This number was later corrected to 78 dogs after a text from club bosses.
The game was also promoted on BBC Match of the Day - which suggested it could be played at the "Pawthorns".