Rotherham inquiry: IOPC finds 'potential police misconduct'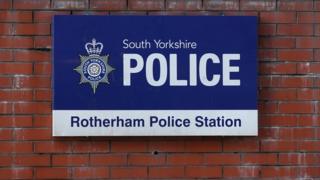 An ongoing investigation into South Yorkshire Police's response to child sex abuse allegations in Rotherham has identified "potential misconduct".
In 2014, the Jay Report revealed 1,400 girls had been sexually exploited in the town and local authorities had failed to take the issue seriously.
An inquiry by the Independent Office for Police Conduct (IOPC) has grown to almost 100 separate investigations.
It had aimed to finish by April, but the investigation remains active.
Read more on this and other stories in Yorkshire
The IOPC is investigating complaints connected to former and serving police officers into how they handled allegations of abuse.
Sixty-two investigations were active in April 2017, with the inquiry later expanded to include 88 investigations into 35 officers. It is now conducting 98 investigations into 33 officers.
The IOPC would not discuss the outcomes of individual cases until the end of the inquiry, but said "some of the investigations concluded so far have identified potential misconduct".
'Terrible crimes'
Professor Alexis Jay's report detailed how children as young as 11 had been subjected to trafficking, rape and other sexual exploitation between 1997 to 2013 by gangs of men who were predominantly of Pakistani origin.
Initial inquiries by the watchdog, previously called the Independent Police Complaints Commission, started in late 2014 after South Yorkshire Police referred 14 members of staff to it.
It has grown into the the second largest operation in its history after the Hillsborough inquiry.
Rotherham abuse survivor Sammy Woodhouse, who has waived her right to anonymity, said: "It's great news that people are coming forward, they're reporting to the IOPC and we can get to the bottom of it.
"It's a massive step in the right direction, definitely."
Steve Noonan, IOPC deputy director of major investigations, said: "We are supporting 53 survivors and a number of complainants through a very difficult period, when they are also being asked to give evidence to the National Crime Agency to support their investigations into the terrible crimes committed in Rotherham.
"Our aim is to not only highlight any conduct matters relating to individual officers but, crucially, to share our understanding of why such serious allegations often weren't investigated and how this can be avoided in the future."