Sheffield homes evacuated because of gas leak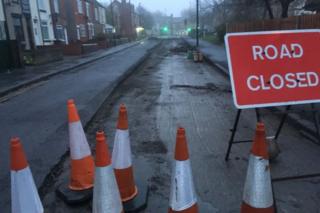 A number of homes were evacuated due to a gas leak.
Cadent Gas, formerly National Grid Gas, said the leak in Hatfield House Lane, Sheffield, was caused by workmen damaging one of its mains.
Hatfield House Lane and Winkley Terrace were closed as a result of the incident, which was first reported in the early hours of Wednesday.
Residents were allowed back in to their homes at about 20:00 BST after engineers stopped the leak .
Sheffield City Council contractor, Amey, has admitted responsibility for damaging the pipe.
About 20 people were taken to the nearby Concord Sports Centre while repair work is carried out.
One woman said she had been woken up and told to leave her house by the police.
"I heard this banging on my door and the police said there had been a major gas leak and we had to get out," she said.
"It was quite scary."
A spokesman for Cadent Gas said: "In the early hours of this morning third party contractors carrying out work in the road damaged one of our gas mains.
"Our engineers have stopped the gas escape and those residents who were evacuated from their properties as a precaution are now being allowed back to their homes."
Darren Butt, Amey Account Director said: "We are sorry for any inconvenience or stress this incident has caused to those living nearby.
"We are undertaking a full investigation into the incident with our supply chain and are working closely with National Gas Network."
Gas supplies to the area were been affected, said Cadent.