Toxins leaking from old Sheffield landfill sites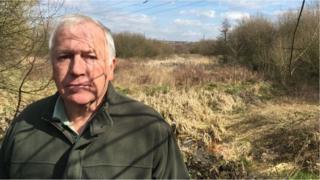 Toxins are leaking from old landfill sites in Sheffield, causing pollution to a nature reserve and stream.
Millions of tons of household and light industrial waste were dumped at Parkwood Springs and Beighton sites, which are now capped off and closed.
Methane gas and a toxic liquid called leachate have polluted Shire Brook and Beighton Marshes nature reserve.
Sheffield council said it was spending more than £500,000 on measures to tackle the problem.
Read more stories from across Yorkshire
The area where the landfill sites were is now known as Lindleybank Meadows and parts of it are used by dog walkers, cyclists and ramblers.
Farmer Michael Spurr said he was worried about the effects on his livestock and the food chain.
"I'm the farm owner with land adjacent to it so obviously it can pollute the land I'm farming," he said.
"The sheep that are in that field now, which are also part of the food chain, are they going to be affected?"
He added: "You've only got to look into the water to see you haven't got fish swimming by or any frogs or newts. It's all to the naked eye dead."
Several attempts to tackle the problem over the years have been "tried and failed", the council said.
It said a clear plan had now been identified and work on installing new landfill gas mismanagement at both sites would start this year.