Peter Pickering: Woman 'handcuffed and raped in van' in 1972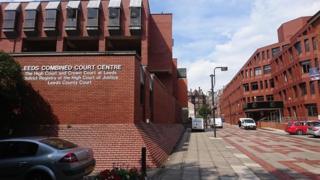 A woman has told a court she was handcuffed and raped in the back of a van weeks before the same man attacked and killed a schoolgirl 46 years ago.
Peter Pickering, 80, has gone on trial accused of abducting and attacking an 18-year-old woman in 1972 in Sheffield.
Leeds Crown Court heard he has been under a hospital order since admitting the manslaughter by diminished responsibility of Shirley Boldy, 14.
Pickering, appearing via video-link, denies rape and false imprisonment.
More stories from South Yorkshire
Shirley was driven to a secluded area by Pickering as she was returning to Wombwell High School, near Barnsley, and was raped, strangled and then stabbed to death.
Speaking from behind a screen, the woman, now in her 60s, described being attacked three or four weeks before Shirley was killed.
'Stunned into silence'
She described how Pickering picked her up in his van as she was on a four-mile (6.5km) walk to work as a waitress from her home in the Stocksbridge area.
The woman said she was violently attacked by the man, who said he was called Peter.
The jury was told Pickering burned her body with a cigarette and told her: "I suppose I'm going to have to kill you now."
The woman said: "I was stunned into silence. I just thought I was going to die.. I had no doubt in my mind that that was what he intended."
Opening the case for the prosecution, Michelle Colborne QC told the jury that when police contacted the woman in December 2016, she said to the officer: "Is it about Peter?".
"That was the first time since 1972 she had uttered his name," the prosecutor said.
Ms Colborne said that Pickering claims the woman consented to sex.
She added: "This defendant was a predator whose means of operating was to use force to get what he wanted."
The prosecution stated a pair of handcuffs and diaries written by Pickering were found when police searched a garage, with a note reading: "Maybe I will be a sex maniac proper."
The woman will continue giving evidence on Tuesday.