Swaithe farm human bones identified as Martin Radford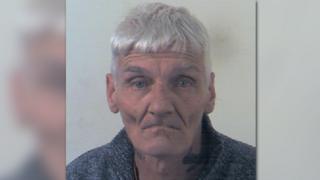 Detectives investigating the discovery of male human remains by children have identified the dead man.
Martin Radford had not been heard from since March 2015 when he was 57, said South Yorkshire Police.
The skull and bones of Mr Radford were found on farmland near Swaithe, near Barnsley, on 4 February.
An initial post-mortem examination did not establish how he died but he was not the victim of any "apparent criminality", the force said.
Police are satisfied the remains are that of Mr Radford and have informed his family.
Det Insp Stuart Hall said a team, including some in specialised areas of forensic science, "worked incredibly hard to ascertain the identity of the deceased".
Mr Radford had been living in the Kingstone area of Barnsley, but from early 2015 he seems to have led "a transient lifestyle", he added.
Officers have appealed for anyone with information, "no matter how small", about Mr Radford to contact them.