Sheffield shooting trial: Alleged killer 'confessed to murder in jail'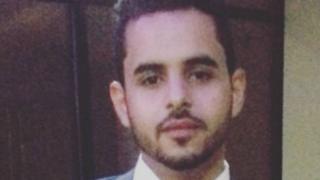 One of three men accused of murdering a 23-year-old admitted in prison to ordering the killing, a jury has heard.
Matthew Cohen, 29, is alleged to have told an inmate at HMP Doncaster he told Dale Gordon, 33, to shoot Aseel Al-Essaie in February 2017.
Mr Al-Essaie died after he was shot at point blank range as he sat in his car on Daniel Hill, Sheffield.
Mr Cohen, Mr Gordon and Keil Bryan, 32, are on trial at Sheffield Crown Court. All three deny murder.
Prosecutor David Brooke QC said Mr Cohen made the alleged confession in June after he was arrested on suspicion of murder.
The inmate said Mr Cohen had told him "they" had been looking for Mr Al-Essaie when they spotted him sitting alone in a rented black Mercedes in Daniel Hill and "blocked him in".
He said Mr Cohen, who was driving, had then "told Gordon to shoot him".
Gun gesture
The prosecution allege Mr Gordon shot Mr Al-Essaie with a .44 calibre Smith & Wesson-type revolver.
Mr Bryan is said to have been sat in the back of the car at the time of the shooting.
According to the inmate, Mr Cohen then passed the car to James Good, 29, to destroy.
The VW Golf allegedly used in the murder was found burnt out later that day in Rough Lane, Grenoside.
The prisoner also said he had fought with Mr Gordon at HMP Doncaster and Mr Gordon told him "You know what's gonna happen now don't you? You know what I did to my man?" before making a gun gesture with his fingers.
The prosecutor said: "[the inmate] was clear that it was meant as a reference to the murder of Aseel."
The court heard the possible motive for Mr Al-Essaie's shooting was "not entirely clear" but may have been linked to Mr Cohen slashing his brother Saleh's face with a pair of scissors.
Mr Brooke said: "It seems the background motive may have been to do with the reaction of Aseel to the incident."
When Mr Cohen was charged with murder the court heard he replied: "There is no power and strength besides the creator who created earth."
Mr Cohen, of Bramwell Close, Mr Gordon, of St Phillip's Road and Mr Bryan, of Brackley Street, all in Sheffield, deny murder.
Three other men and woman from Sheffield are also on trial.
Mr Good, of Ringstead Crescent, is alleged to have set fire to the VW Golf on the orders of Mr Cohen. Both men deny a charge of perverting the course of justice.
Brothers Razwan, 25, and Mohammed Mirza, 30, of Staniforth Road, are said to have collected Mr Cohen, Mr Gordon and Mr Bryan after the murder. The deny assisting an offender.
Mr Cohen's mother Patricia Sharp, 58, is also on trial accused of lying to police about the ownership of the car allegedly used in the killing. She denies a charge of perverting the course of justice.
The trial continues.