Sheffield shooting trial: Man 'murdered at point-blank range'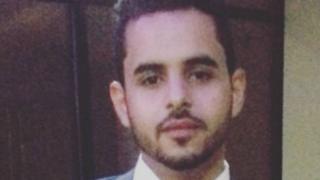 Three gunmen fatally shot a man at point-blank range as he was sitting in his car on the way to his sister's engagement party, a court heard.
Aseel Al-Essaie, 23, suffered internal bleeding after being shot in the Mercedes in Daniel Hill, Sheffield, on the afternoon of 18 February 2017.
His alleged killers, Matthew Cohen, 29, Dale Gordon, 33, and Keil Bryan, 32, are on trial at Sheffield Crown Court.
The men, all from Sheffield, deny murder.
More stories from across Yorkshire
Opening the case against the men, prosecutor David Brooke QC said Mr Al-Essaie was shot when a VW Golf drew alongside his vehicle.
"The prosecution case is that the men responsible for the killing were the driver Matthew Cohen, the front seat passenger, Dale Gordon, and the rear seat passenger, Keil Bryan," he said.
"Only one shot was fired but the prosecution case is that all are equally guilty of murder."
'Hyper and aggressive'
The court heard Mr Al-Essaie's brother Ali had seen Mr Cohen along with a man he later recognised as Mr Gordon and a third man in a Volkswagen Golf on Daniel Hill moments before the shooting.
Mr Brookes said he described them as being "hyper" and "aggressive".
Moments later he said he had seen the Golf pull alongside Mr Al-Essaie's rented black Mercedes and saw the "long barrel of a gun" come from the passenger side window before hearing a single gunshot.
The court heard the Golf then sped off while Mr Al-Essaie struggled from his car.
Mr Brooke said Mr Al-Essaie was shot in the shoulder and the bullet punctured his lung, heart and abdomen, leading to "massive internal bleeding".
Mr Al-Essaie's brother drove him to hospital but he was confirmed dead there.
The court heard the Golf allegedly used in the shooting was found burnt out about eight miles north of Sheffield later that day.
Mr Brookes told the court Mr Cohen had organised for 29-year-old James Good to torch the vehicle before brothers Razwan, 25, and Mohammed Mirza, 30, came to pick him, Mr Gordon and Mr Bryan up.
Mr Cohen's mother Patricia Sharp is also on trial accused of lying to police about the ownership of the VW Golf allegedly used in the killing.
Mr Cohen, of Bramwell Close, Mr Gordon of St Phillip's Road and Mr Bryan of Brackley Street, all in Sheffield, deny murder.
All three also dispute they were in the car said to have been used in the shooting.
Mr Cohen, Mr Good, of Ringstead Crescent, and Ms Sharp, of Bramwell Close, all in Sheffield, deny a charge of perverting the course of justice.
Razwan and Mohammed Mirza, of Staniforth Road, Sheffield, deny assisting an offender.
The trial continues.