Leonne Weeks murder: Shea Heeley 'had urge to kill'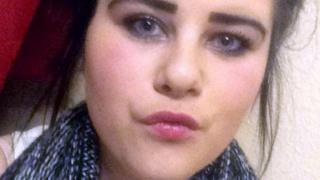 Armed with a machete, Shea Heeley rang 999 from outside a pub in July 2016 and said he wanted to kill the next person he saw. Six months later, he made good on his promise of murder - stabbing 16-year-old Leonne Weeks 28 times, before stuffing her body beneath a fly-tipped sofa and meeting friends for a takeaway.
Exactly why the teenager went to meet 18-year-old Heeley on the night of 15 January, and for what purpose, is unclear.
According to police, the pair hadn't had a long relationship but had known each other a while and had been spending time together.
She was a well-liked student at Dinnington High School, near Rotherham, where she studied hair and beauty. Hers was a large, loving family and by all accounts, the schoolgirl had a bright future ahead.
Little came out in court about Heeley's personal life.
But what did become clear was that on the night of Leonne's murder, he arranged to meet her on a secluded path in Dinnington with the intention of killing her.
Less than 24 hours earlier, the pair had arranged via Snapchat to meet shortly after 19:00 GMT in the alleyway behind Lordens Hill.
Leonne was seen on CCTV walking past the Best One shop towards the path. Meanwhile, inside the store, Heeley was filmed buying a packet of Skittles.
What the various cameras did not pick up was whether he was carrying the weapon he would use to murder the teenager just a few minutes later.
At 18.25 he left the shop and walked towards the rendezvous point.
He was not spotted again on CCTV until more than 90 minutes later, when he was seen walking to a takeaway with friends.
In that relatively short window, he had murdered the schoolgirl, stabbing her 28 times before dumping her body beneath the discarded settee.
Leonne's family had woken the next day to discover she had not come home, and began frantically appealing for information on social media.
Meanwhile, shortly before 11:00, a member of the public discovered Leonne's body and called 999.
Det Ch Insp Martin Tate, who led the investigation for South Yorkshire Police, said it did not take long to join the dots.
"A 16-year-old girl had gone missing, it is a small and tight knit community - there was real concern, lots of people looking for her, so we quickly made the connection.
"The identification was made very, very quickly on that day."
Heeley, now 19, soon became a suspect when the CCTV footage and phone records pinpointed him as among the last to have seen her alive.
In a chilling twist, in the hours after her body was discovered, he posted comments on Leonne's Facebook page, writing "RIP" on two separate occasions.
By 01:00 the following day, officers had sufficient concern to arrest him at his home in Doe Quarry Lane.
As their investigation progressed, detectives uncovered a wealth of evidence pointing to Heeley's guilt.
On his phone they found he had been researching and studying murders and how to destroy forensic evidence.
They discovered he had a fascination with knives and was known to carry them on occasion, though the weapon used to stab Leonne was never recovered.
Also discovered, were the records of his phone call from July 2016.
"He had contacted us from outside a pub in Dinnington," said Det Ch Insp Tate. "And he had contacted 999 to say, 'I'm having violent and murderous thoughts'."
In court, prosecutor Timothy Roberts QC said Heeley had told police at the time "he had an urge to kill somebody".
He was picked up by officers and was taken into the care of the Community Adult Mental Health Service (CAMHS) at Rotherham General Hospital.
Over a period of days, he was assessed and given anti-psychotic medicines but a report drawn up in December concluded he had no diagnosable mental disorder.
However, it warned he had "personal characteristics that were of extreme concern", issues around aggression, and it was recommend he should be very closely monitored.
Yet despite the deep-set concern about Heeley, the report was not signed off until after Leonne was murdered.
Rotherham Doncaster and South Humber NHS Foundation Trust, which manages CAMHS, said: "We would never comment on whether someone uses our services or does not use our services due to patient confidentiality."
Heeley refused to answer police questions in interview and has given no explanation for the brutal murder, which he finally admitted at Sheffield Crown Court on 9 February - exactly a year after Leonne's funeral.
As he was led to the dock, emotion in the courtroom spilled over, and two people had to be led away from the public gallery following angry outbursts.
Det Ch Insp said he was at a loss to explain Heeley's behaviour.
"At what point he's formed the mindset to commit the murder, quite what he was thinking, I don't think I can get inside his head at all."
Asked if anything could have been done to prevent the murder, the officer agreed it was a "very difficult question".
"We are working with the NHS and they are working closely with us - its absolutely critical that everybody learns their lessons.
"If it was preventable then it is absolutely tragic, a 16-year-old girl has lost her life, so that needs to be looked at."