Sheffield firm in hunt for 'lost' giant scissors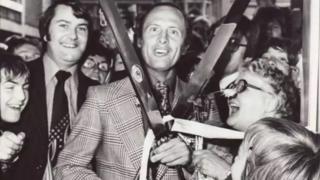 An appeal has been made to solve the mysterious whereabouts of a giant pair of scissors made for ribbon-cutting ceremonies more than 80 years ago.
Sheffield firm Taylor's Eye Witness made the cutters in the 1920s, which were loaned out for special events.
An old picture shows them being used by cricketer Geoffrey Boycott in the 1980s.
Joanne Chapman, who is leading the appeal, said they were an important piece of the firm's history.
The scissors, thought to be about 2ft-long (60cm), are believed to be unique and had been forgotten about until the company uncovered the Boycott picture.
'Piece of history'
Ms Chapman said: "We know they were made by apprentices in the 1920s and that we used to lend them out to cut ribbons at opening.
"But other that we have absolutely no idea where they've gone.
"They're not something you can just put in your drawer or cupboard."
She added: "We'd really like to get them back. They're an important piece of history."