Jane Collins defamation case: UKIP delayed case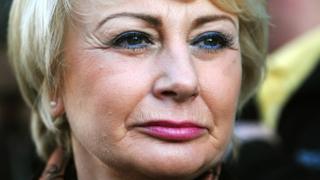 UKIP "deliberately delayed" settlement of a libel case for "political advantage" ahead of the 2015 general election, the High Court has ruled.
The case was brought by three Rotherham Labour MPs over comments made by UKIP MEP Jane Collins about the Rotherham child abuse scandal.
Mr Justice Warby said the defamation action would have been "swiftly" settled had UKIP not interfered.
He added the party should be held liable for some of the costs.
In 2017, Ms Collins, the MEP for Yorkshire and North Lincolnshire, was ordered to pay £54,000 in damages to each of the three MPs - Sir Kevin Barron, John Healey and Sarah Champion - who all represent Rotherham constituencies.
She was also directed to pay costs of £196,000.
The three MPs had taken action over a speech which Jane Collins gave at the UKIP conference in September 2014, a month after a report found about 1,400 children in the area had been abused between 1997 and 2013.
She had claimed the MPs had known about the exploitation of children and had not intervened.
Ms Collins had repeatedly tried to delay the case against her and had not apologised for her remarks and the MPs had felt their integrity was under attack, Mr Justice Warby said.
None of the money had been paid and the MPs claimed UKIP should meet the costs.
The party admitted it had provided £31,000 to the MEP but said its main concern had been to settle the claims against her.
Mr Justice Warby said UKIP could not be held responsible for Ms Collins remarks and had begun by supporting her in good faith.
But, he said, things changed in late February and early March 2015.
"In that period, the party took a deliberate, informed and calculated decision, for reasons of party political advantage, to ensure that the case was not settled before the general election," he said.
"In my judgment, it very probably did thereby prevent a settlement that it had been advised should be made and which would otherwise have occurred quite swiftly."
He did say the party was not responsible for Ms Collins subsequent behaviour between June 2015 and January 2017, when she attempted to claim immunity as a member of the European Parliament.
But he ordered the party to pay the MPs cost from 20 March 2015 to 23 June 2015 and costs from the assessment of damages hearing.
UKIP would be given the opportunity to challenge any sums claimed, he added.
Ms Collins remains liable for the damages and costs awarded against her, Mr Justice Warby added.