MP Dan Jarvis to stand for Sheffield City Region mayor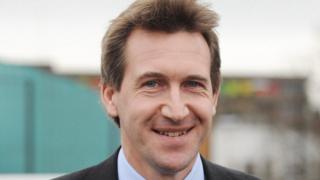 Labour MP Dan Jarvis has announced he intends to stand to be Sheffield City Region mayor.
The former soldier said he would try to remain in his post as MP for Barnsley Central if elected on 3 May.
Mr Jarvis, 45, who has previously campaigned for a Yorkshire-wide devolution deal, is the third Labour party member to join the race.
Former sports minister and Sheffield MP Richard Caborn and Sheffield city councillor Ben Curran will also stand.
Mr Jarvis said in a statement: "South Yorkshire is entering a pivotal period in its development.
More news from around Yorkshire
"Our soon-to-be-elected Sheffield City Region mayor will be key to unlocking the investment that our region needs: our transport, broadband, education and training systems are not fit for the challenges of the 21st Century.
"Investment in our housing and the environment lags behind what we need. All must be delivery priorities for the new mayor."
He said he would be looking for a wider devolution deal for Yorkshire and the Humber "because the election of a mayor in South Yorkshire is not the end of our devolution story, it is the beginning".
Mr Jarvis campaigned for the UK to to remain in the European Union in a constituency which voted to leave. He served in the Parachute Regiment from 1997 to 2011 and was deployed to Iraq and Afghanistan.
Mr Caborn was minister of sport from 2001 to 2007 and Sheffield Central MP from 1983 to 2010 and Mr Curran is a cabinet member for planning and development on Sheffield City Council.
Whoever wins the race in just over three months' time will be the first directly-elected mayor of South Yorkshire.
Analysis by James Vincent, BBC Look North political editor
"It's for the love, not the money" is how Dan Jarvis is billing his bid to be South Yorkshire's mayor.
But, with an MP's job he'll keep and the salary that goes along with it, he will find it easier than most to refuse the mayor's pay packet.
So what is an MP who has been front and centre of the Yorkshire devolution bid doing standing to be mayor of South Yorkshire?
Well, a canny bit of political manoeuvring means that if he is elected he can steer the way towards that all-encompassing deal, from the inside.
Other candidates may well not want South Yorkshire to join a wider Yorkshire deal. This may be the One Yorkshire supporters' only chance to get their man in prime position to change the deal once he's elected.
It would, of course, involve him having to agree that the position of South Yorkshire mayor should be abolished.
But if you've got two jobs already, that's not really a problem.