Police interview Sheffield couple after workers fall ill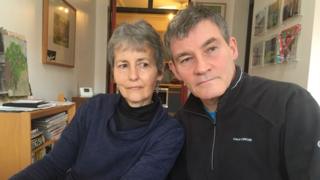 A couple said they were upset to be under police investigation after workers cutting down trees claimed they became ill after consuming drinks the pair made for them.
The three workers were employed as part of a controversial Sheffield council tree felling scheme.
South Yorkshire Police said it was investigating.
Sue Unwin and her husband John said they were shocked when detectives arrived at their home last week.
The couple said the incident dated back to October when they were asked to make two teas and an orange juice for workers felling trees outside their house.
"They [the police] told us that three crew had been ill and that the only common factor was our drinks," said Mrs Unwin.
'Worst enemy'
She said that after the police suggested a laxative might have been used she invited them to search the house.
"I said to them 'you can look in our cupboards for laxatives; we don't have laxatives in the house'," she said.
"We are both vegetarians and we don't have any problems in that direction."
Mrs Unwin said: "It's very upsetting that they should think we would even consider doing something like that to anyone. I wouldn't do that to my worst enemy."
A South Yorkshire Police spokesperson said: "Officers have carried out forensic tests and have spoken to a number of witnesses regarding this matter and inquiries are ongoing."
More than 5,000 trees have been cut down in the city as part of a council approved programme attracting protests.
The authority insisted those earmarked for felling are either "dangerous, dead, diseased, dying, damaging or discriminatory".
Campaigners say many of those trees are healthy specimens which should not be cut down.