Sheffield tree fellers assault allegation investigated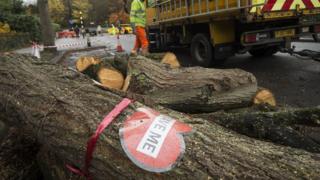 Police are investigating claims that three workers cutting down trees in Sheffield became unwell.
It is claimed the workers became ill after drinking tea offered by a resident, as reported in the Star.
South Yorkshire Police said the incident on Chatsworth Road was reported in October.
More than 5,000 trees have been cut down in the city as part of a council approved programme attracting a storm of criticism.
Read more on this and other stories from Yorkshire
The authority insists those earmarked for felling are either "dangerous, dead, diseased, dying, damaging or discriminatory". They say each tree removed will see a new specimen replanted.
However, campaigners say many of those trees are healthy specimens which should not be cut down.
A South Yorkshire Police spokesperson said: "Officers have carried out forensic tests and have spoken to a number of witnesses regarding this matter and inquiries are ongoing."
Amey, which is carrying out the £2bn Streets Ahead project for Sheffield City Council, has declined to comment on the matter.
The company paused work following clashes between workers and protestors, but the council said work would resume from 29 January.