Harthill fracking test well application rejected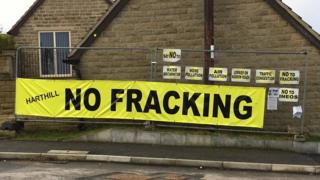 An application to drill a controversial test well at site earmarked for possible fracking has been rejected.
Energy firm Ineos wants to construct a 2.8km (1.7mile) deep well on land to the east of Harthill, near Rotherham, to extract rock samples for testing.
Campaigners say work to drill the well would lead to pollution and increased traffic volumes in the area.
The application was rejected by Rotherham Council. It is now due to be referred to the Planning Inspectorate.
Protestors gathered outside Rotherham Town Hall before the meeting to show their opposition. Council documents show that more than 1,300 objections were lodged.
No letters were received in support of the application.
The council rejected the application, saying: "It is considered that the proposal fails to satisfactorily address highway safety concerns raised, along with insufficient ecological details submitted."
Fracking - or hydraulic fracturing - is a technique in which water and chemicals are pumped into shale rock at high pressure to extract gas.
Ineos say the proposed site on Common Road "has been chosen because it is within an area of interest to us based on seismic data".
Speaking before the meeting, Lynn Calder, commercial director of Ineos, said she believed the firm had a "strong case to be considered" by the Planning Inspectorate
"We understand the council are in a difficult position, these applications address local issues but they have national implications given that shale is a nationally important resource."
She said that while the local community may not support the application "we're not talking about luxuries that we can do without, we need gas in this country".
Similar applications have been submitted to drill test wells on land in Woodsetts, near Worksop, and Marsh Lane, in Derbyshire.