Police refuse to collect vandalised Sheffield Ofo bikes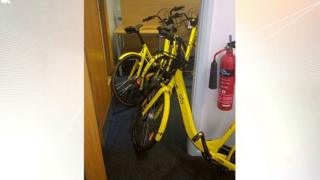 Police in Sheffield have said they will refuse to collect any more of the city's new shared Ofo bikes which have been dumped and vandalised.
Manor and Arbourthorne Neighbourhood Police Team said on Facebook: "Bike shepherding isn't in our job description."
But according to Ofo no-one, including police, is expected to collect or move the yellow bikes.
Instead, damage can be reported on social media or the number on the bike.
More stories from across Yorkshire
Sheffield launched the bike-sharing scheme on 9 January with 500 bikes.
A phone app unlocks the bikes so they can be ridden at 50p per half-hour, and then parked anywhere in the Sheffield zone for the next person to use.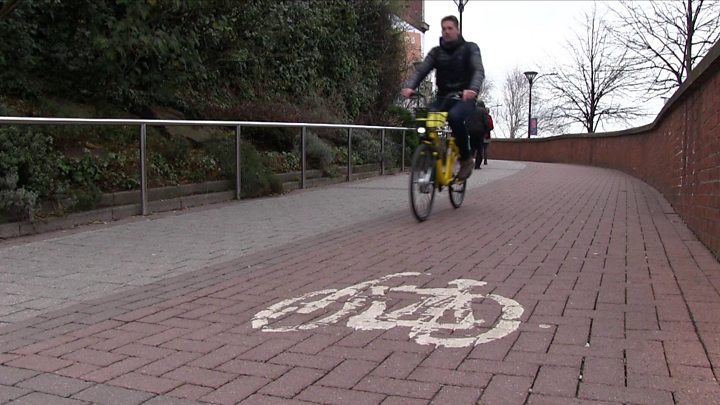 Writing on Facebook, Manor and Arbourthorne Neighbourhood Police Team said: "We won't be collecting any more bikes, as bike shepherding isn't in our job description (we've checked, it's definitely not there)."
They said the bikes are GPS-tracked so can be left anywhere and only need reporting to Ofo if the bike lock is broken and it can be freewheeled.
"If the bike has just been left somewhere, that is how the scheme works (although you would hope that they would be left somewhere sensible and not up a tree)," they added.
Ofo say a team of six bike engineers drive around the city daily repairing and maintaining bikes reported as damaged.
The company say bikes which require substantial repairs are taken to the depot and returned the next day.
Adam Rose, Ofo Sheffield operations manager, said there were currently 12 bikes in the depot.
He said vandalism usually peaked about a month after the scheme was introduced, after which time people got "bored" of treating them badly.
In China where bike-sharing began, a cap has been put on the number of new shared bikes because of traffic chaos caused by people dumping them.