Barnsley and Doncaster back 'Wider-Yorkshire' devolution plan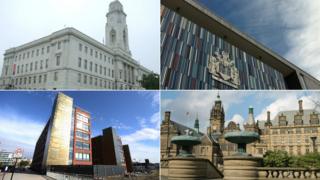 People in Barnsley and Doncaster have backed a proposed 'Wider-Yorkshire' devolution deal.
More than 75,000 votes were cast in a community poll asking people to choose between the pan-regional proposal and a government-backed South Yorkshire deal.
Barnsley Council said in light of the result it would ask the government to postpone mayoral elections scheduled for 2018 until 2020.
The turnout in Barnsley was 22.4% and 20.1% in Doncaster.
Barnsley Council leader Sir Steve Houghton: "The will of the people is for wider Yorkshire. We'll work to make that happen and we're confident that this is the right move for Barnsley."
Mayor of Doncaster, Ros Jones said she the poll was a "very significant consultation exercise" and, as a result, "Doncaster's position on devolution is therefore settled".
Greater powers
A £900m devolution deal for the Sheffield City Region was agreed in 2015 and a mayoral election is scheduled for May 2018.
However, in August Doncaster and Barnsley joined with 17 of Yorkshire's 20 councils in announcing plans to push for a 'One Yorkshire' deal, claiming a wider deal would result in greater powers.
The result of the poll comes after Communities Secretary Sajid Javid said he was willing to compromise on a possible Yorkshire-wide deal involving the four South Yorkshire councils.
He had previously said he was not prepared to consider any deal that cut across the Sheffield City Region deal.
In a letter to the leaders of the four councils, he said: "The aim of any compromise, as I see it, should be to open the way for the people and business of South Yorkshire to have the full benefits of the Sheffield City Region deal, whilst not in anyway precluding your council and others from pursuing their ambitions for a One Yorkshire deal."
The cost of conducting the polls was about £240,000.
Analysis by James Vincent, BBC Look North political editor
If you think it's hard getting people interested in devolution, you're right.
I said before the result that if turnout for this poll was over 20% Doncaster Council would be happy enough.
They got 20.1%
They got just enough people to vote in the poll to make a deal of the result, the result they wanted.
Of those that did vote, it was an overwhelming victory for going for a Wider-Yorkshire deal.
At £2.60 a vote the council will say that's good value.
But when a council is spending £120,000 on a poll that is largely now redundant there are questions to ask.
If the Communities Minister is saying you can do a South Yorkshire deal then a Wider-Yorkshire deal, asking residents to pick one over the other doesn't really get you closer to a compromise.
And that's the real question. Will this result enable Doncaster and Barnsley along with Sheffield and Rotherham to start talking to each other again?