Sheffield exhibition aims to break baby loss taboo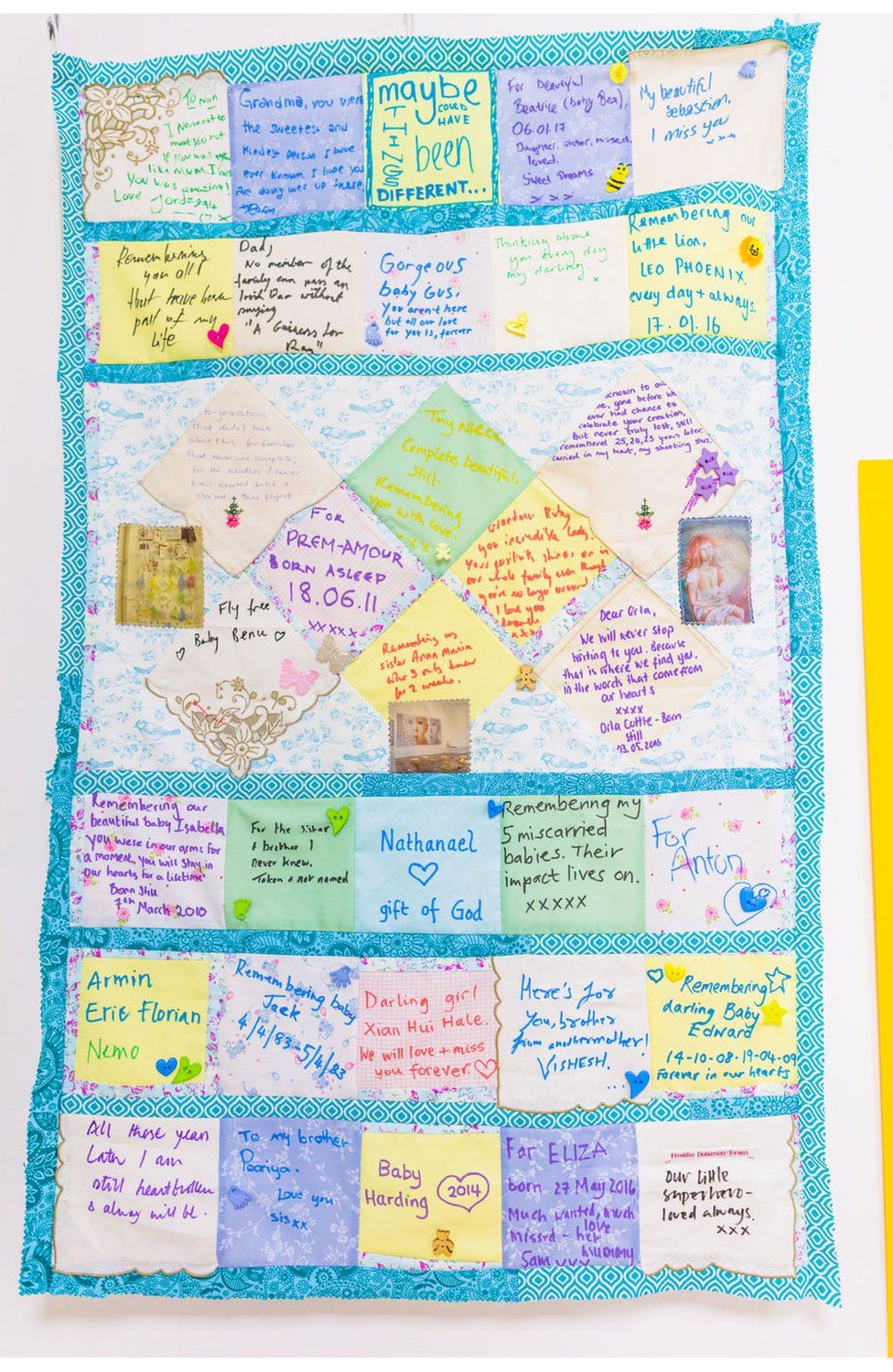 Silent taboos around stillbirth and miscarriage are the focus of an exhibition exploring how parents and medics deal with early-life baby loss.
Remembering Baby is inspired by research and aims to show the "hidden side" of when a baby dies.
It features memory boxes, notes from bereaved parents to their babies and artwork illustrating their loss.
Melanie Hall, who had a miscarriage, said having her experience feature in it had brought "great comfort".
The exhibition, at The Art House in Sheffield, uses visual and audio art to explore how both parents and medical staff experience and encounter death "at the very beginning of life".
Academics from the University of Sheffield worked with the charities Sands and the Lullaby Trust on the project and interviewed families who have lost a baby.
Parents were invited to take part in a workshop where personal objects relating to their baby's death were transformed into artwork for the exhibition.
Ms Hall, from Sheffield, said: "I took a feather which had become really important to me because of the signs of angels."
She added: "There are so many people out there that experience baby loss and it's incredibly moving to have that physical representation of your baby."
As well as how parents experience baby loss, researchers wanted to illustrate the often unseen experience from the medical profession.
Dr Kate Reed, a reader in medical sociology, said: "For doctors, for midwives, the care doesn't stop when the baby dies.
"One of the memory boxes features a radio because often in the mortuary there is a radio playing and staff are singing to the baby.
"These staff really care for that baby - they dress it, talk to it, wrap it in a blanket. It's the hidden side of the journey that people don't know about."
The university research that inspired the display was focused on exploring the use of post-mortem in miscarriages, stillbirth and neonatal deaths.
Dr Reed said: "It is impossible to talk about post-mortem in these circumstances without fully understanding the whole journey of the loss.
"For stillbirths in particular, post-mortems are so important so we can understand what happened and give information for future pregnancies.
"But often parents are so traumatised that they don't consent; it's too difficult to comprehend."
She said the findings of the research would help shape future medical practices and policy with a view to giving more parents the option of non-invasive MRI autopsy.
Having already been shown in London, the exhibition runs in Sheffield until Thursday but it is hoped it will travel elsewhere.
Dr Reed said: "We have been contacted by so many different places such as bereavement charities, hospitals and schools who are keen to show it.
"When you scratch the surface there are so many people out there who have been affected.
"Just because something is difficult to tackle and talk about, doesn't mean we shouldn't do it."
Related Internet Links
The BBC is not responsible for the content of external sites.