Sheffield FC gets Qatari support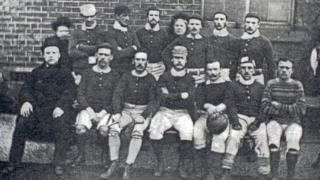 The organisers of the World Cup in Qatar have said they want to help the world's first football club move back to its original ground.
Delegates from Qatar 2022 pledged support when they visited Sheffield FC's former Olive Grove ground on Saturday.
The first rules of modern football were laid down at the site in 1857.
The club currently play home games at Dronfield in Derbyshire.
More stories from across Yorkshire
Sheffield FC chairman Richard Tims gave the Qatari delegation a tour of the Olive Grove area and told them of the club's ambition to move back to the city they left in 2001.
As well as returning to Sheffield with a new stadium, the club wants to build a football history museum. Premier League Chelsea have already pledged almost £2,000.
'Every club's great-grandfather'
Mr Tims said it was "fitting" that the club could look "confidently" to relocation in its 160th year.
"Together we are protecting the heritage of football and are asking all our friends in the world of football to come together and join us," he said.
"We are every club's great grandfather."
"We need to use our club's famous history to create a genuinely neutral centre for grassroots, a place where kids from around the world can come and play on the pitch where it all started and learn about the history of the beautiful game."
Sheffield FC was founded in 1857 by Nathaniel Creswick and William Prest
The club pioneered an accepted set of rules for modern football and under these rules the club played city rivals Hallam FC in December 1860
Sheffield FC is recognised by FIFA and the FA as the world's first football club
It moved to Dronfield in Derbyshire in 2001, and in 2015 announced plans for a new community ground at Olive Grove
Source: Sheffield FC
Hassan Al Thawadi, from Qatar 2022, said: "I have been so impressed by the club's vision to develop such an exciting project; to create a new home of football, a centre for grassroots, a place for football fans across the world to come and learn about where the rules of the game were born."
Two more Premier League clubs have shown support and will be announced "in due course", Mr Tims said.