Sheffield's Vernon Oak: Charity rescue bid to save tree felling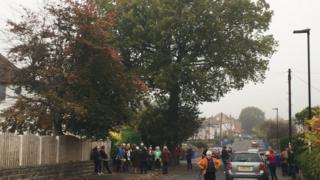 A charity has offered to help save a 150-year-old oak tree in Sheffield from being felled.
Sheffield City Council was due to chop down the tree on Vernon Road in Dore this week as part of its £2bn scheme to upgrade roads, pavements and bridges.
Trees for Cities said it made a formal offer to the council to pay for the engineering works to the pavement in an effort to protect the tree.
The authority confirmed it is "in discussions" with the charity.
David Elliott, chief executive of Trees for Cities, said: "Given the urgency of the situation, Vernon Oak is a symbol of Sheffield's tree stock and we wanted to step in and do what we could to try save this tree.
"The council have estimated about £10,000 to do the work for this particular tree, but similar work generally costs less than that. Until we have formal quotes it's impossible to say what the exact figure will be at this stage."
Mr Elliot said the charity did not "formally have funds set aside for this" but would raise the cash by fundraising and reviewing its current budgets.
"It's such an urgent situation that we will find a way to find that money, that's guaranteed to the council."
He said the work would involve "rebuilding the kerb around the root of the tree".
Sheffield Trees Action Group (STAG) said while some streets were built as tree-lined roads, the Vernon Oak was originally a boundary tree in a field.
About 5,500 trees have been cut down since 2012.
Sheffield City Council previously said a date had not been confirmed for the Vernon Oak felling.
The authority insisted trees earmarked for felling were "dangerous, dead, diseased, dying, damaging or discriminatory".
But campaigners claim many of the earmarked trees are healthy and should not be cut down.
The Independent Tree Panel, which reviews felling decisions, said the Vernon Oak was "a very fine specimen, in excellent condition, with a further 150 years life expectancy".