HMP Doncaster sex offender rise 'to reduce violence'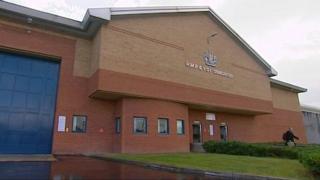 Hundreds of alleged or convicted sex offenders have been placed in a prison to tackle high levels of violence, a report has found.
Inspectors said the "deliberate policy" was aimed at "stabilising" the population at privately-run HMP Doncaster.
This had been done without adequate measures to support the men and the risk they pose, the report said.
Serco said staff had worked hard to address complex challenges.
The Prison Officers Association said increasing the number of sex offenders in jails could help reduce violence because they largely had a less volatile temperament towards staff and other inmates compared to prisoners with non-sexual offences.
At the time of the inspection in July the number of men on remand for, or convicted of sex offences had trebled to just over 300.
The chief inspector of prisons, Peter Clarke, said this increase meant "in effect, this large cohort of men was being denied the opportunity to make progress".
He said a strategy was needed that "clearly identifies how men convicted of a sexual offence will be offender managed".
The HM Inspectorate of Prisons report found levels of violence at the jail had reduced sharply but still remained high.
It highlighted that poor behaviour from inmates often went unchallenged but said the jail was "more stable" overall compared with a previous inspection in 2015.
The Ministry of Justice confirmed that HMP Doncaster was chosen as a suitable prison to hold an increased number of sex offenders.
Jerry Spencer, Serco contract director at HMP Doncaster, said a "great deal" had been achieved but added: "We know there is much more still to do."