Barnsley BB gun shooting: Boys, 11, forced into pond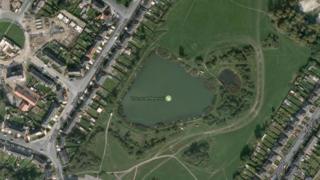 Two 11-year-olds were shot at and forced to jump into a pond by older boys armed with a BB gun, police said.
The younger boys were forced into the pit pond next to Thurnscoe reservoir in Barnsley.
South Yorkshire Police said one of them suffered minor injuries from a pellet fired at his back while he was jumping into the water.
BB guns are a type of airgun that fire small round or pointed pellets.
The two older boys were said to be aged 12 or 13.
Police said they were both white, with one wearing a red t-shirt and the other a white t-shirt.
More on this story and others from across Yorkshire
Officers have appealed for witnesses to the incident, which happened on 23 September between 14:00 and 16:00 BST.
Several people, including dog walkers and people fishing, are thought to have been in the area at the time.
PC Simon Womersley said: "We have been working closely with local schools and partners to educate children and parents on the dangers of jumping into open water and the use of BB guns."