Sheffield nightclub reopens after stabbing incident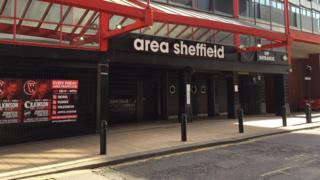 A Sheffield nightclub is to reopen on Friday after it was shut by police following a double stabbing.
Two men were left with "serious injuries" after they were attacked at Area in Burgess Street on Sunday.
Police said the venue had improved its security measures, including the installation of a scanning arch to detect weapons.
Sgt Matt Burdett said the club now had a "robust search policy and security measures".
"Through working closely with the club, we identified a number of areas that needed significantly improving to ensure security and ID processes were sufficient to ensure the safety of everyone visiting the venue," he said.
Sgt Burdett said officers would continue to visit and monitor the nightclub.
A spokesperson for the club said: "Safety is of paramount importance to us at Area, in these uncertain times we want our customers to feel and be safe.
"With the guidance and advice from the local authorities customers can expect to see increased security measures, female door staff, ID scanning and body cameras linked to the local authority in place for all trading sessions at the venue tonight."
South Yorkshire Police said the two men aged 28 and 33 who were stabbed "were taken to hospital with serious injuries and are now both at home recovering well".
No arrests have been made in connection with the stabbing.