Rotherham steel plant's mothballed equipment reinstated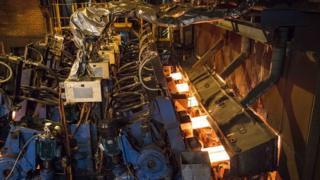 Massive casting equipment which had been mothballed has been reinstated at a steel plant, creating "hundreds of new jobs".
Tata Steel scrapped the small bloom caster at Rotherham's Aldwarke works 18 months ago during the UK steel crisis.
New owners Liberty House said it had employed 64 new staff and a further 150 would be hired in the next six months.
The company said it planned to increase production "threefold within a year by bringing this equipment back into use".
Executive chairman Sanjeev Gupta said: "This is a very big part of our jigsaw in terms of turning this business around.
"The plan has always been to bring this plant back to a million tonnes and more, which will allow us to reduce costs to make this viable again."
He said a second electric arc furnace would be reignited sometime in the new year, taking on another 86 "or more" employees.
The small bloom caster turns liquid steel into solid blocks before it is processed into bars at a mill at the Rotherham site.
MP for Penistone and Stocksbridge Angela Smith said: "The re-commissioning of key pieces of equipment and the creation of new jobs is a clear sign that things are now heading in the right direction."
In May, Liberty completed the purchase of Tata Steel's speciality steels division for £100m, protecting jobs at three major sites at Rotherham, Stocksbridge and Brinsworth in South Yorkshire, as well as smaller sites in Bolton, Lancashire and Wednesbury in the West Midlands and two distribution centres in China.
Speciality steels produces a range of high-value steels used in the manufacture of vehicles, aircraft, industrial machinery and equipment for the oil and gas industry.