Pupils 'terrified' of new Penistone school behaviour rules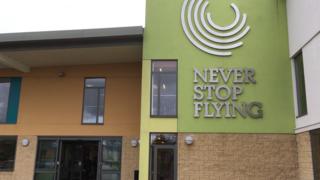 Parents say a school's new behaviour policy has left some pupils "terrified of making a mistake".
Students at Penistone Grammar School can be reprimanded for incidents such as forgetting a pen or leaving their shirt untucked and face action if they breach the rules six times in a week.
One parent at the school near Barnsley said children had been left "in tears".
School principal Jo Higgins said the system encouraged students to "make the right choices".
More stories from across Yorkshire
The school implemented its "Values Driven Expectations" scheme at the start of the school year.
Pupils begin the week with six "lines" and lose one or more each time they breach a rule.
'Upset'
Parent Mathew Fenoughty said: "The children are absolutely terrified of making a mistake, be it not tucking their shirt in, a crooked tie, running down the corridor, even helping a friend in class has been punished."
Amanda Robinson said she had been part of a delegation of parents who had spoken to the school over the rules.
"A number of parents were talking about Year 7 children who have just joined the school who were in tears or very upset if they had forgotten a minor piece of kit or a pen," she said.
"A number of parents spoke about the upset that the new policy is causing their children."
Ms Higgins, however, said the "true spirit behind the system is based on a reward system". Guidance documents show that rewards include gift vouchers and days out.
She said: "There's no consequence whatsoever if a student loses a line, it gives us the opportunity to have a really constructive conversation with them about making the right choice regarding behaviour next time.
"Research shows that low-level disruption in lessons is the biggest cause of students failing to achieve. We think that its only fair that for the 95% of students who really want to learn at Penistone their learning is not disrupted.
"For every parent who made a negative comment at the meeting we had the same number of parents actually delighted with the system."