Sheffield university anti-gay marriage expulsion 'breached rights'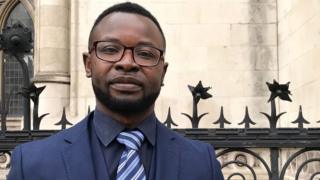 A religious education teacher thrown out of university for writing on Facebook that homosexuality was a sin has told the High Court his removal was a breach of his human rights.
Felix Ngole, 39, from Barnsley, was removed from a social work course at the University of Sheffield after making the comment in an online debate.
He claims his rights to freedom of speech and thought have been breached.
The university said the decision was "fair and proportionate".
More stories from across Yorkshire
Mr Ngole was thrown off the two-year MA social work degree course in 2015 after posting the comment in a discussion about Kim Davis, a state official in the US state of Kentucky, who refused to issue licences for same sex marriages.
During the discussion the devout Christian expressed the view that "the Bible and God identify homosexuality as a sin".
The University of Sheffield took the decision to remove him from the course when it became aware of the comments.
It said he was taking a "professionally qualifying degree" with the aim of becoming a social worker and argued what he had said would affect gay people he might work with.
However barrister Paul Diamond said in a written case outline that Mr Ngole, originally from Cameroon, made the comments in "a private/social as opposed to professional context".
He said: "Mr Ngole's expression of his beliefs was a genuine contribution to an important public debate.
"Mr Ngole is entitled to express his religious views; and did so in response to direct questions."
University bosses said the social work course was intended to give students a professional qualification and was monitored by the Health and Care Professions Council.
They said they therefore had a responsibility to consider students' "fitness to practise".
Barrister Sarah Hannett, who is leading the university's legal team, said Mr Ngole's case should be dismissed.
The hearing continues.