Sheffield's Area nightclub told to make changes after stabbings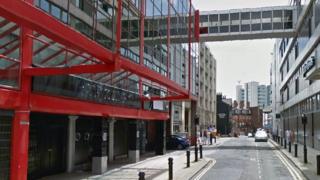 A Sheffield nightclub where two people were stabbed at the weekend has been ordered to step up its security and ID checks.
Police were called to the incident at Area on Burgess Street at about 02:20 BST on Sunday.
South Yorkshire Police has ordered the club to make "significant changes to structures and processes".
The force said said investigations were ongoing and no arrests have yet been made.
The stabbed men, aged 28 and 33, are recovering well in hospital, police said.
More on this story from across Yorkshire
Ch Supt Shaun Morley said: "I wholly appreciate the wider public's concern after the knife-related crime in the city centre this weekend and want to reiterate that we have officers working relentlessly to investigate these incidents.
"Area nightclub was served with a temporary closure notice shortly after this incident and it will remain closed until at least Friday 6 October."
Mr Morley added that the force must be "absolutely satisfied" that the club's management had made significant changes to structures and processes around security and ID.
He said: "We will not tolerate violent crime in our city and will take firm and decisive action against individuals and premises whose behaviour or conduct places the public of Sheffield at risk."
In a separate investigation, two men have been arrested and charged with attempted murder and racially aggravated assault after stabbings on Division Street and Carver Street in the early hours of Saturday.
Police said these stabbings are not believed to be linked to the incidents at Area.