Barnsley Bolshoi ballerina embarks on UK tour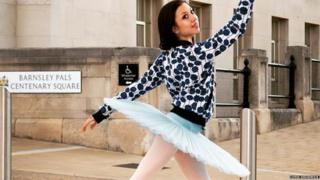 A ballerina who was the third British female to graduate from the Bolshoi Ballet Academy is to start her first UK tour as a professional dancer.
Tala Lee Turton, 21, graduated from the elite Moscow-based school last year after four years of intensive training.
She has secured a place at the Russian Astrakhan State Opera and Ballet Theatre and will be performing with the company in UK theatres from October.
Tala, from Barnsley, said dancing so close to home would be "extra special".
At the age of four, Tala began dancing at Fearons-Middleton School of Dance in Barnsley before later attending programmes at the Royal Ballet, Northern Ballet and Yorkshire Ballet Scholarship Centre.
She was accepted into the Bolshoi when she was 16 and received sponsorship as well as raising money towards the cost of training at the academy, which averaged £15,000 a year.
Life as a professional ballet dancer is as intense as the Bolshoi regime.
Tala trains ten hours a day, six days a week with weekly performances scheduled throughout the season.
During her UK tour, which runs from 14 October to 7 December, she will perform in productions of Swan Lake, Nutcracker and Romeo and Juliet.
She is also keen to develop her choreographic skills and has produced two videos showcasing her own work.
"The tour and the choreography are an exciting chapter in my career," Tala said.
"I never thought I'd be able to graduate from the Bolshoi but I achieved the dream so I feel like there is nothing stopping me now."