Sheffield tram death leads to safety proposal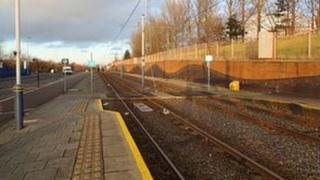 Tram operators should develop new ways to warn drivers of pedestrians after the death of an 81-year-old man at a crossing, said investigators.
The man was hit in Woodbourne Road, Sheffield, at 10:02 GMT on 22 December 2016 and died the following day.
The recommendation is contained in a report on the death by the Rail Accident Investigation Branch.
Operator Stagecoach Supertram said safety would "always be our absolute priority".
The company has now introduced audible warnings for trams passing through stops.
But the report calls for an industry-wide working group overseeing new "pedestrian detection technology".
The report also found Stagecoach Supertram had not assessed the risk of trams passing through the stop and the tram involved had given no audible warning of doing so.
The pedestrian, who had just got off a tram at the stop, was fatally injured by another tram travelling from the city centre towards Meadowhall at about 13mph (21kph), states the report.
The experienced driver of tram 105 did not see him until shortly before the collision as her attention was focused on looking in the mirrors rather than ahead.
The driver, who had driven trams since 1994, was wearing sunglasses and her concentration level might have been reduced by that stage of the journey, it was said.
Enhance safety
Stagecoach Supertram has updated risk assessments and implemented measures to reduce the risk of collisions with pedestrians, adds the report.
The company said: "Our first thoughts remain with the loved ones of the pedestrian who died in the accident.
"Safety will always be our absolute priority and we have worked closely with the authorities to understand the full circumstances involved."
The company also said it would work with the wider industry to enhance safety.