Suez bin workers in Doncaster to be balloted over jobs strike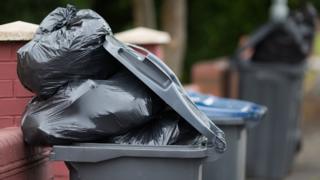 Refuse workers in Doncaster are to be balloted for strike action in a dispute over job cuts which could hit bin collections in the run-up to Christmas.
Members of Unite employed by contractor Suez will vote in the coming weeks on whether to launch industrial action.
The union said Suez plans to cut more than 100 jobs under a new contract which will come into effect in March.
Suez said it was "extremely disappointed" about the ballot but there was a need for fewer staff.
Strikes were called off in August to allow talks to be held at the conciliation service Acas.
More stories from across Yorkshire
Gill Gillies of Doncaster Council said: "We understand that Suez is consulting with its staff on the terms of the new waste and recycling contract, and talks are still underway with ACAS assistance.
"We urge all parties to keep negotiating in order to make sure that Doncaster residents aren't negatively impacted by this dispute."
Unite's regional officer, Shane Sweeting, said the union had entered negotiations with a "clear intention" of resolving the dispute.
Suez was "unable or unwilling" to promise no compulsory redundancies, Mr Sweeting said.
He added the union was balloting for strike action as a last resort because it had "no option but to defend jobs".
Suez said because of changes to how recycling and waste was collected there was a need for fewer staff than before.
"As of mid-July members of staff employed on the current contract received notice of the start of a 90-day consultation period, which could result in redundancies next year," the company said.
"This process is due to conclude at the end of October, but the primary purpose of the consultation is to determine how the needs and commercial realities of the new contract can be balanced against the best interests of existing staff."
Suez said the ballot of members for strike action while talks were ongoing was becoming a regular occurrence.
Unite is currently involved in a long-running dispute involving refuse collectors in Birmingham.