Labour promise full inquiry into 'Battle of Orgreave'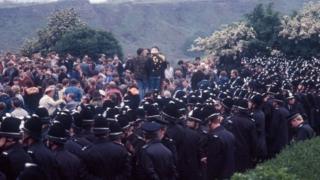 Labour has promised a full inquiry into the so called Battle of Orgreave during the the 1984 miners' strike.
Thousands of police officers and miners were involved in violent clashes at the coke plant in South Yorkshire.
Speaking at the Labour Party conference in Brighton, Shadow Home Secretary Diane Abbott said people involved in the clashes "deserve justice".
Last year, Home Secretary Amber Rudd ruled out any investigation into the incident.
Ms Abbott said that people involved in the clashes "deserve justice".
"We finally had an inquiry into the Hillsborough tragedy thanks to the tireless campaigning of the people of Liverpool, with the support of my colleagues Andy Burnham and Steve Rotherham", she said.
"As Labour home secretary I promise a full inquiry into Orgreave."
Violent day
In a statement to the House of Common in October 2016, Mrs Rudd said: "Despite the forceful accounts and arguments provided by the campaigners and former miners who were present that day about the effect that these events have had on them, ultimately there were no deaths or wrongful convictions."
Her decision was described as "a complete shock and a great disappointment" by Barbara Jackson, secretary of the Orgreave Truth and Justice Campaign.
The Battle of Orgreave was the most violent day of the year-long 1984-85 miners' strike.
Huge lines of police clashed with striking miners as they tried to stop lorries carrying coke to fuel the Scunthorpe steel furnaces.
Violence erupted and at one stage police horses were sent to charge the crowd up the field as officers followed to make arrests.
The police said they were hit by rocks and bottles and had to react to protect themselves. The miners said they were peacefully protesting when the police charged.