DNA survey monitors health of Sheffield's urban otters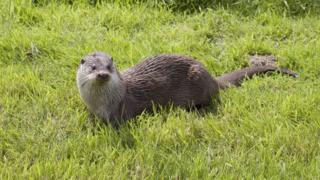 A two-year research project has monitored the otter population along the banks of the River Don in Sheffield.
Scientists from the University of Sheffield analysed the DNA from droppings collected along the river.
The results will give researchers an insight into otter numbers, their distribution and diet.
Deborah Dawson said results indicated that up to seven otters lived along a 15-mile stretch of the river.
The Don was once heavily polluted with the waste from local industries, causing a massive decline in otter numbers during the middle of the 20th Century.
Dr Dawson said the first reports of otters returning to the river were in 2010.
She said analysing the numbers of the otters gave a good indication of the health of other wildlife along the river.
"If you know the otter is doing OK, you know the River Don is doing OK," said Dr Dawson.
"All the species underneath that feed on the food chain must all be in a good state to be able to support a top predator like an otter."