Thorne poultry firm fined for water safety breach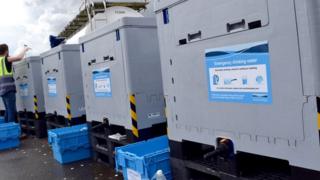 A chicken processing plant which caused a "major water contamination incident" has been ordered to pay £12,700 for breaching safety regulations.
Some 3,600 properties in Thorne, near Doncaster, were affected after E.coli was discovered in their supply in 2016.
Chesterfield Poultry Ltd, of Coulman Street, Thorne, admitted five breaches of the Water Supply Regulations 1999.
The firm was fined £2,700 and told to pay £10,000 in costs after a hearing at Doncaster Magistrates' Court.
More stories from across Yorkshire
Households in the area were subject to "massive disruption" as water use restrictions were put in place for six days in July 2016 while the source of the contamination was identified and eradicated.
Yorkshire Water said Chesterfield Poultry had installed water fittings that were likely to cause contamination.
Paul Carter, from Yorkshire Water, said: "We saw from the incident in Thorne the massive disruption that contamination of a water supply can cause for people.
"We hope that this prosecution will act as a warning and ensure that all businesses take the steps required by law to notify Yorkshire Water of any proposed alterations of their water systems and to prevent the risk of contamination when installing new plumbing systems in future."
The firm was initially charged with 38 offences which was later reduced to 12. No evidence was offered on the remaining seven charges.
The BBC has been unable to contact Chesterfield Poultry.